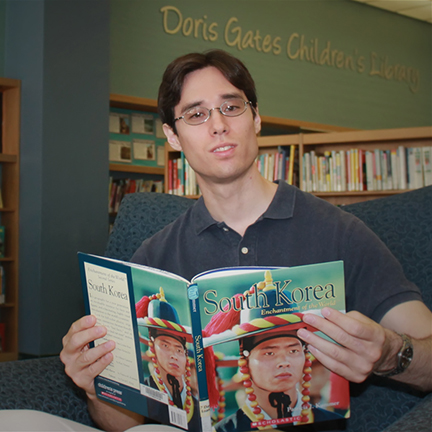 It all began when Thomas started volunteering for Fresno County Public Library's Reedley branch in 2010. Volunteering at the Library was an amazing experience, but when Thomas heard about a job opening for Library Assistant the following year, he practically leapt at the opportunity. From there, he's had the privilege of serving local Library-goers in a variety of different capacities.
Currently, Thomas is part of the behind-the-scenes team of staff that orders new books and media for the Library's many branches. He spends much of his work time selecting titles that will help meet the recreational and informational needs of the community, and his main areas of focus are teen and kids' books, graphic novels and manga, eBooks, and video games. He suspects that this might actually be the best of all possible jobs.
When he's not at work or writing autobiographical blurbs about himself in the third person, Thomas is (and this might fall somewhere in the region of complete shock, or maybe absolute shock) pretty big into reading! He usually gravitates toward fantasy, sci fi, comics, and Stephen King, but he'll read just about anything. A few of his recent YA favorites include Joe Abercrombie's Half the World and Ryan North and Erica Henderson's run on The Unbeatable Squirrel Girl.