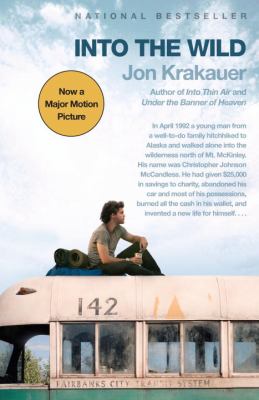 Author: Jon Krakauer
Jon Krakauer is an inspiration to me; it is unfortunate he died the way he did, but his journey is noteworthy. Even he saw it among himself to write out through his experiences. This book is for the people who like peeping into people's diaries. If you liked Anne Frank's diary, you might like this. This is nowhere close to tragic as this is a tragedy made by a Self vs Self unlike the Self vs Society in Anne Frank, but I don't know...this is a diary that wanted to be found. This man, through this book, showed me that distancing yourself from everyone might not be in my best interest, but to get out there to get to know as many people as I can, that certainly is and we all should do that.
Rating:
I really liked it
Recommendation:
Teens who feel misunderstood, anyone who's really antisocial
Reviewed by:
Sarah M.
---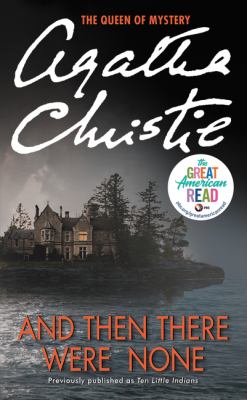 Author: Agatha Christie
This mystery brings ten very different people together, with one thing in common: they have all killed someone before, whether intentionally or unintentionally. One ran over two children with his car, one sent a man into a war he didn't return from, and so on. Each of these ten people got a mysterious invitation to Soldier Island. A morbid children's rhyme on the mantel of the mansion on this island, with ten toy soldiers nex to it, describes the various ways in which ten soldier boys died, starting with the first who choked himself, and the last who hanged himself. Soon, the island's visitors find themselves stuck in this nightmarish rhyme, where each of them begins dying in the same ways of the soldier boys, and in the the same order. After a thorough search of island, when no one other than the ten visitors are found, one things becomes clear. The murderer is among them, and they most figure out who it is, before it's too late.
Rating:
It was amazing!
Recommendation:
Fans of other Agathie Christie novels, like "Murder on the Orient Express", or fans of thriller/mystery books in general.
Reviewed by:
Audrey B.
---
Author: Wendelin Van Draanen
This book will get you flipping pages. It is so interesting to read a story from two points of view. It shows you that there are always two sides to the story. I really liked this book and would recommend it to all.
Rating:
I really liked it.
Recommendation:
Teens
Reviewed by:
Baljit J.
---
Author: Angie Thomas
This book is about a girl named Starr, who is the eyewitness of her childhood best friend's death, when he is shot by a white police officer. Starr decides to do what's right and becomes an activist. Her friend died after they left a party shooting. Her friend was unarmed and simply killed. As this news spreads, people influence Starr to stand up for what's right, with lots of people in the community standing at her side. There are protests in the book and there is some profanity. Angie Thomas makes you want to keep reading the book, because you always want to find out what comes next. She puts some key points that shock you, like the ending and the decision by the court as to whether they put the police officer in jail or not. There are many shootings in this book and deaths of people Starr loved. I give this book 5 out of 5 stars. It shows what people like Starr face in our world today. This book needs a movie.
Rating:
I really liked it.
Recommendation:
Teens
Reviewed by:
Yosef A.
---
Author: Eric Schlosser
I read this book about the history and origins of American fast food for my AP English class and it was more interesting than I expected. It also sheds light on many overlooked industries in fast food, such as slaughterhouses.
Rating:
It was alright...
Recommendation:
Fans of nonfiction books
Reviewed by:
Audrey B.
---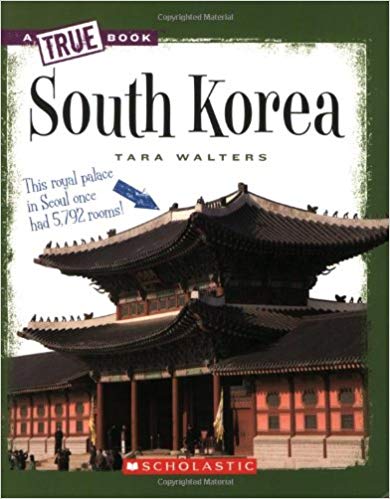 South Korea
Author:
Tara Walters
This amazing book taught me some things that I didn't know about South Korea and it's cultural lifestyle. It showed me their kind of culture and how they celebrate the Lunar New Year and the Harvest Moon Festival in honor of their ancestors. They also celebrate Buddha's birthday with the Lotus Lantern Festival. I would definitely recommend this book for people who would like to know about Korea.
Rating:
It was amazing!
Recommendation:
People who would like to know more about South Korea.
Reviewed by:
Morelia G.
---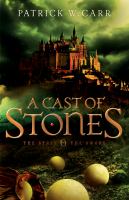 A Cast of Stones is a book about a boy named Errol. He is about nineteen and he says yes to delivering a message to a priest for some money, not knowing what will happen. Along the way to deliver the message he is chased by a deadly assassin. Soon he is drawn into a crazy series of events when the priest and his assistant discover that he has a special power to help the kingdom. Along the way Errol and all of his new friends are chased by mysterious people and creatures. Errol must find out why they are chasing them and how to keep the king safe...
Rating:
I really liked it.
Recommendation:
Age 12 and up
Reviewed by:
Rebecca F.
---

Author: James Dashner
The whole time it was just mystery after mystery. There were so many unknown things at the beginning but slowly everything came together. The weather disasters and Cranks make life for all of the Gladers very difficult. Overall an amazing book.
Rating:
It was amazing!
Recommendation:
Anyone
Reviewed by:
CJ B.
---
Author: Sarah J. Maas
The first book in a 7 book series, with an eighth one coming out in Fall 2018, by Sarah J. Maas. Celaena Sardothien is a notorious assassin who is forced to participate in a game hosted by the King of Adarlan in order to eventually gain her freedom. Follow Celaena as she encounters all sorts of threats and as she discovers hidden secrets within the castle. On top of that, she gets caught up in a love triangle. When I read this book, I couldn't put it down since it was so riveting and there are so many plot twists in the book that will keep you reading for hours on end. If you like the Hunger Games or Divergent, then you'll definitely like this series, too.
Rating:
It was amazing!
Recommendation:
Teens 13+
Reviewed by:
Olivia L.
---
Author: Marissa Meyer
Wow! Where do I even start? Well, I've got to say this book has been one of the few that have truly made me connect and feel for the characters. Meyer created an elaborate and wonderful story of the Queen of Hearts life before she became queen and how her wicked ways came to be. She had the skill to make me believe that the queen could have possibly had a different ending (though we all know what happens). She made me wish the impossible relationship between Catherine and the Jest would have happened. 🙁 I got pretty emotional towards the end, so be ready for that!) This book was pretty fast paced and was full of surprises. (It also made me crave some macaroons) Also, Meyer was successfully able to incorporate Carroll's writing style into her own. I feel that she matched his style of writing very well which made this book much more enjoyable.
The character development is pretty much impeccable. Catherine turned from a sweet and dream-filled girl to the Queen of Hearts as we know; she went from baking rose macaroons to beheading people.
I certainly recommend this book to Alice and Wonderland fans and anyone who has a taste for a whimsical and fantastical world in which they will surely fall in love with.
Rating:
It was amazing!
Recommendation:
Alice and Wonderland fans, anybody who likes a good fantasy book with a romance!
Reviewed by:
Martha N.
---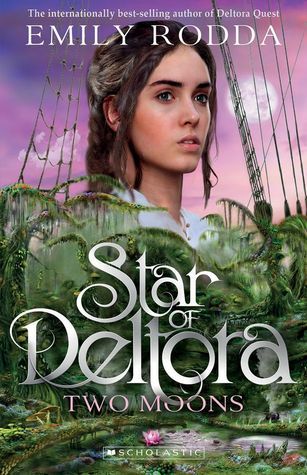 Star of Deltora: Two Moons
Author:
Emily Rodda
The Star of Deltora series follows Britta, the daughter of Dare Larsett, one of the most hated traders in the Silver Sea, on her quest to become one of the most successful traders in the nine seas. The series is set mostly on the ship The Star of Deltora and on the island of Two Moons. Britta, along with Sky, Jewel and Vashti are the four finalists in a contest, where the grand prize is an apprenticeship under the trader Mab, through the cluttered streets of Two Moons, to the danger filled swamp lands where the beautiful Sunrise Pearls are found and harvested by The Turtle People. Out of this world, creatures and amazing twists, along with secrets undiscovered. follow Britta from the harbor of Del to the island coast of Maris to the harbor of Two Moons, and finally Illica and Tier.
Rating:
It was amazing!
Recommendation:
Adults and Teens
Reviewed by:
Aubrey J.
---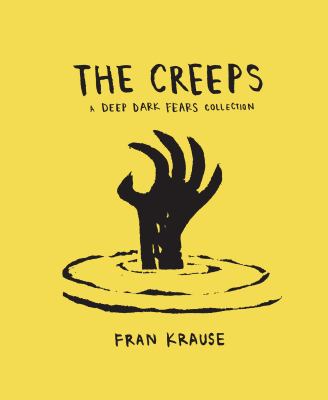 Author: Fran Krause
In this book, the author explains some common fears that people show. There are a total of 97 fears in it. To me, this book was really fun to read because I got to learn about some fears that I have never heard about and I learned about some fears that my friends had said they have but I never understood what they meant. All in all, I think everyone should read this book because it is fun and was very interesting to me when I read it.
Rating:
I really liked it.
Recommendation:
Anyone
Reviewed by:
Taylor D.
---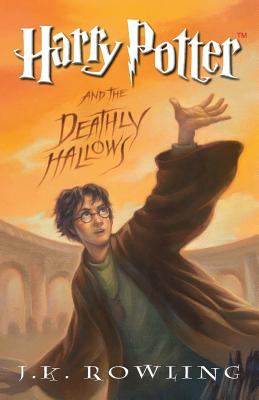 If I could sum this book, actually this whole series, up in one word, it would be: AMAZING!!! This book is full of magic and mystery. It is not cheesy in the way where everyone's alive and happy. Many people die, and it is hard for the other characters. There is also love that makes you smile and not wrinkle your mouth in disgust. It is very descriptive, so that you may picture everything in your mind and see it how Ms. Rowling wanted you to see it. This book/series is an excellent combination of everything that I, and I'm sure many others enjoy: action, adventure, love, heartbreak, sadness, and deep-ness. I'm not sure is deep-ness is a word, but the books are very deep, meaning they go into to real world subjects and bad things actually happen.
Rating:
It was amazing!
Recommendation:
Everyone!
Reviewed by:
Hazel T.
---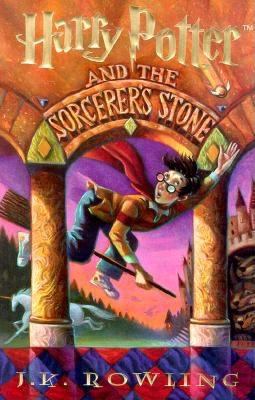 Harry Potter (whole series)
Author:
J.K. Rowling
This series of books is by far my favorite. I love these books, because they are entertaining and sparked my interest. I don't know why but when I read it for the first time it made me want to read more and more, so I finished the series of seven books in about two weeks. I was so sad when I finally finished the series, because there were no more books, so I just re-read the lot. It was amazing.
Rating:
It was amazing!
Recommendation:
All pre-teens and/or teens
Reviewed by:
Morgan D.
---
Author: Jake Halpern
After Fourteen Years of Day comes Fourteen Years of Night. On this island, the sun doesn't set like normal. Every fourteen years of daytime, the sun sets and the island is plunged into fourteen years of night. The inhabitants of this island know enough to leave the island when the sun begins to set. Anyone who gets left behind is never heard of again. This year, a boy goes missing just as the inhabitants are about to leave their island and Marin and her brother and the missing boy get left behind.
When I opened this book, I had no idea what to expect... a cheesy horror story, or a really good, frightening story that raises goosebumps. As I read further in this book, I was surprised to find a really good, goose bump-raising story. It's especially chilling if you read it alone at night. The story takes unexpected twists and turns and keeps you engrossed in the story right up to the very end.
Rating:
I really liked it.
Recommendation:
Horror fans
Reviewed by:
Citlali V.
---
Author: Elliot Smith
Recorded in friend's houses little did aspiring Indie Folk artist "Elliott Smith" know that he would make one of the most important records for the Indie movement at the time. Every song on here is a hard swallow to those who can relate to its honest and melancholic lyrics, but is a nice listen to those who want to pass the time with music. It's not innovative musically, but it sure is impressive lyrically. It's one of the more accessible Indie records out there and with songs like "Say Yes" and "Ballad Of Big Nothing" its easy to see why. Little hints of optimism and faith pop up here and there in an otherwise depressing record, which makes it very human rather then being sad for no reason. The lyrics also remind me a bit of Bob Dylan's songwriting, in the sense that the lyrics can mean a number of things. A song can be about addiction or about love, Ultimately, it's up to the listener the decipher. All in all, this record makes a very good listen for those rather lonely nights and is one of my personal favorites.
Rating:
It was amazing!
Recommendation:
Teens looking for a good night-time record and/or something new.
Reviewed by:
Gavin G.
---
Author: Taran Matharu
The first book in the first series of this upcoming star writer, Tara Matharu. Venture into a strange new world, similar to Eragon, as a war between orcs and humans unfolds. Follow Fletcher as he embarks on a trip to learn how to control the power demon summoning. The first book of the summoner trilogy.
Rating:
It was amazing!
Recommendation:
Teens, Preteens, and Young Adults
Reviewed by:
Ddraig G.
---
This sci-fi, action, thriller and fantasy novel is the first book out of the whole nine book series. It's also critically acclaimed. Heck, it even got a manga series and a terrible movie! No, seriously. It's awful. I watched it and it made me wanna hurl. The series is REALLY good up until the last two novels. Still good, but not as good as the ones before it. The book(s) focuses on Maximum "Max" Ride and her 'family' of different ethnicity's who escaped from an awful science lab they call "The School". The "White coats" take children and fuse their DNA with different ones. Some are successful. Others... Let's not talk about those. It's REALLY good and I recommend it... Buuuut at your own will. It's a bit dark, pretty bloody and the last four novels are NOT for anyone under 15. But other than the caution I've given you and terrible movie that the author made, it's a good series and worth the time you spent reading it. Expect a TON of plot twists that will leave you at the edge of your seat, screaming "I KNEW IT!" I know I did.
Rating:
I really liked it.
Recommendation:
15 and up. I would say 13, buuuut...
Reviewed by:
Trinity G.
---